Description
50% more powerful than the facial peel
Visible results after just one uses
Removes Keratosis Pilaris, eczema patches, dry flaky skin
Use as self or spray tan prep and shaving prep
For smooth, supple arms, thighs, calves, neck, décolleté, feet, hands
Real Chemistry's Luminous 3 Minute Peel for the body is an engineering marvel that resurfaces the skin by removing many layers of dead skin. It contains no acids and is powerful enough to remove Keratosis Pilaris. Use just before a spray tan for the most even, gorgeous results. Use before shaving to prevent ingrown hair anywhere it happens.
Ingredients
Aqua (Water), Carbopol 940, Glycerin, Butanediol, Mint Extract, Hyaluroinc Acid, Dipropylene Glycol, EDTA Disodium Salt, Gylcerin Polyoxyethylene ether, Alkyl Trimethyl Ammonium Chloride, Essence of grapefruit, Hydrogenated Castor Oil PEG-40, Germal Plus, Wild Soybean Extract, Jojoba Oil, Cosmetic Sand, Lemon Yellow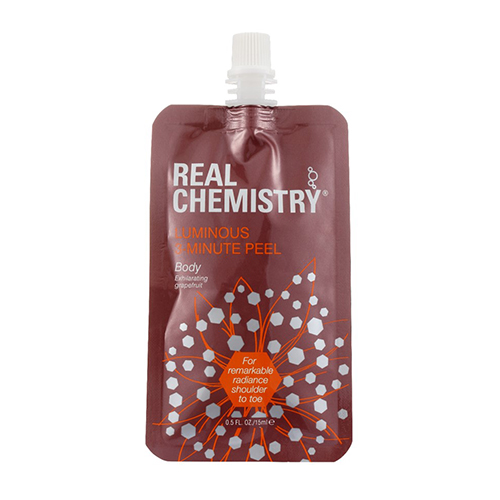 Only logged in customers who have purchased this product may leave a review.