WINNER 2015 Packaging Design Award!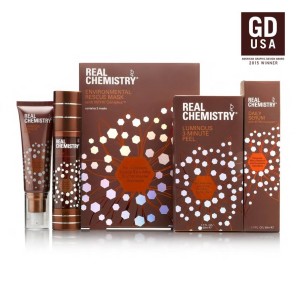 Order here Or look for Real Chemistry at these fine retailers:
Lord & Taylor, 5th Avenue
AAFES!
---
 Want to try before you buy?
OR
Get two 15ml tubes of the Luminous 3 Minute Peel – Body for free!
OR
A combo pack!
Use coupon code "freesamples" and the cost will be deducted at checkout.
You only pay the flat rate shipping of $6 (US Orders)!
Our Special Limited Time Offers
Get the peel and the serum and receive the mask 3-pack FREE! $208 Value for just $140. Don't miss this!
---
User Reviews
See what others are saying about our products
This stuff is spectacular
I got this product in my Birchbox and was so excited to see that Lord and Taylor are selling it. I am a professional aesthetician and I will be recommending this to all my clients! This is an amazing product – so much better than anything else out there. Where has this been all my life!?? I spread the gel on my skin and immediately it begins to combine with my skin, creating these little crumbles. The little crumbs fell off, I rinsed, and in just 3 minutes I had the softest, smoothest skin I have ever seen. My mom, my friends, my man….all said "what did you have done?" Wow – never had anyone ask me anything after trying a new product. This stuff is spectacular….when are they going to make this for my entire body?? (Reviewed on LordandTaylor.com)
Aesthetics Pro!
- New York, NY
Best product I have ever used!
I have ordered this amazing peel in the past from Real Chemistry and I'm super excited to see it on Birchbox.com. What an amazing product. Most products promise results after a few weeks of use – this product delivers the very first time you use it. I have issues with occasional breakouts and uneven skin tone. Since I started using the Real Chemistry peel, I simply don't have those issues anymore. My friends and family literally stop me and say…."what did you have done? You skin is glowy and amazing…."
And here's the best part….for $48 I get about 20 peels out fo the tube. That's about 20 weeks so I only have to buy the product about 3-4 times per year to look absolutely flawless everyday! This stuff totally rocks. Thanks Birchbox! (Reviewed on Birchbox.com)
Best peel on the market
I spend hundreds on products every year. Nothing has worked as well as this peel. It doesn't take a day or two weeks to see results. You see it in 60 seconds. I recommend it for every skin type, even the most sensitive because I have the most sensitive skin. Don't look for samples. JUST BUY IT. (Reviewed on Amazon.com)
Great 3 minutes of My Routine
This is a quick and EASY way to get rid of dry skin before putting on makeup…I have used many products including a PMD device and most still leave those dry areas or leave my skin irritated and red but this works for me for whatever reason…I do use a soft EVE LOM cloth to gently work the product into my skin instead of damp hands..it is simply a preference…I would definitely give it a try…it does leave ones skin softer and smoother…a definite plus to anyone before applying foundation. (Reviewed on Nordstrom.com)

Great 3 minutes of My Routine
I absolutely recommend this product! It was quick and easy to use. I noticed a difference after the first use! It left my skin so soft and radiant. I had my mom use it also and she loved it. It removed ALL of her troubled dry skin patches that she'd been suffering with for years after just one use….Amazing. Her skin looked so healthy! I love this product and I'm glad I found it to add to my beauty routine. (Reviewed on Ulta.com)

Check out our new "How To" video for the Luminous 3 Minute Peel!
This version is 2 minutes 18 seconds. Did you know you could use the peel in the shower to save time?
Short on time?  View the short version of the "How To" video here: this version is 53 seconds.
Introducing Real Chemistry
Having spent over 20 years in healthcare, researching ingredients that could be used to treat specific skin conditions, we came upon an incredibly unique technology. This new and cutting edge technology gave us the ability to combine ingredients in a synergistic way enabling our products to deliver superior results!
REAL CHEMISTRY is committed to producing technology-based, innovative products that you can use alone or with your existing skin care regimen.